In my atelier we will collaborate on your custom one-of-a-kind haute hat or fascinator! Bring your outfit and we will create the headpiece of your dreams that will complement both your dress and facial features!
My atelier is a treasure trove of fashion inspiration, accessory ideas, unique fabrics, feathers and jewels. If you're looking for that elusive piece to complete your outfit....Just call ...and get ready to look fabulous!
Nestled in fog in the Presidio Heights neighborhood of San Francisco. (415)387-6082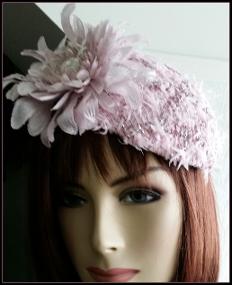 Pink boucle Chanel fabric with silk flower....$75.
AMERICA'S CUP
REUNIONS
BRIDAL
NEW YEAR'S EVE
BRIDGE
HALLOWEEN
4TH OF JULY
MOTHER'S DAY
BASTILLE DAY
BLACK & WHITE BALL
HOLIDAYS





Custom silk ribbon fascinator with polkadot veiling...for Canada Day! ----SOLD----
This charming fascinator basket weave made from grosgrain ribbons is most appropriate for America's Cup parties or Bastille Day!
$85.

ot Pink silk ribbon rose perched adoringly on a black sinamay cage and french netting with polka-dots ...very French! ---SOLD---
Leaves cascading......
$75.
Gold straw pillbox......Do you have a black suit? It would look amazing with this hat!
Peach blossoms on Peach Boucle fabric.......oooh, La La!
$75.
This cocktail hat would look phenomenal at the Black & White Ball or cocktails at the Ritz!
$150.



Black Patent can be dressed up or dressed down!
$50.
Jingle Bells Jingle Bells!
---SOLD---
Vintage Kimono pillbox festooned with rose, feathers, bird, gold leaves and netting!
---SOLD---


Pillbox made from Chanel fabric..... $150.